Let's face it: the market is flooded with cheap condenser microphones. But for decades, Beyerdynamic, the German company based in Heilbronn, has proven that it knows how to make microphones.
I have to say that I love using my Beyerdynamic microphones in the studio on a daily basis. I have several M201s and M88s at hand, which are reliable workhorses on many sources. Being a big fan of ribbon microphones, I also enjoy working with their M160, M130, and my old M260. In the past, I've recorded with their bigger condenser microphones like the MC840, but LDC microphones from Neumann or AKG used to be much more common in the studios and sadly, the Beyerdynamic MC-series never reached their popularity.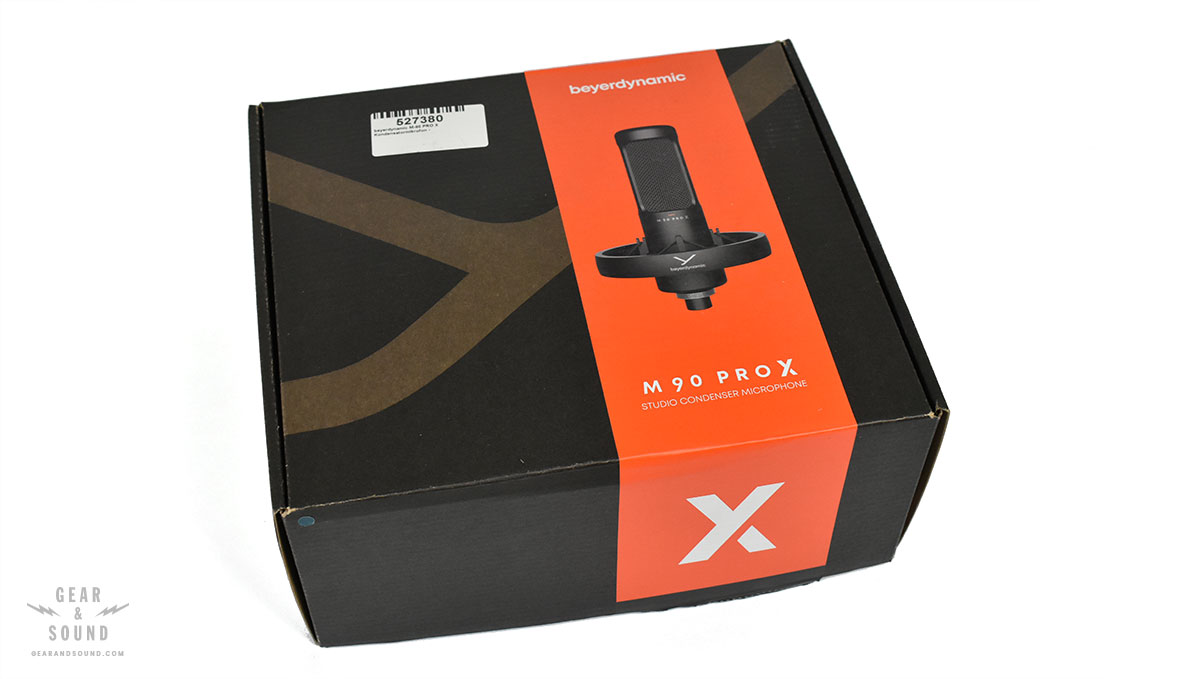 But times have changed, and I was curious about Beyerdynamic's latest development. According to the manufacturer, the new microphone was engineered entirely in Germany. But while other microphones from the brand are still made in Heilbronn, the new M Pro X Series is made in China. Hence the lower price. But does it mean the M 90 Pro X is just a mic for newbies? Or does the sound and handling also fulfill higher expectations? Let's check it out.
Unboxing the Beyerdynamic M 90 Pro X
The Beyerdynamic M 90 Pro X comes as a complete recording package. Besides the microphone, you get a shock mount, a neoprene carrying bag, and a pop filter. So you basically just need a microphone stand to set it up. As I'm used to working with the relatively small MC840, I expected a microphone of the same size. But, surprisingly, the M 90 Pro X is a real big fellow and almost as big as a U87! So, it leaves quite an impression once you set it up. The microphone is about 20 centimeters long, with a diameter of 5 centimeters.
Despite its significant size, the M 90 Pro X is feather light and weighs only 296 grams. That's almost too light to give a feeling of quality, but a good-sounding microphone doesn't necessarily have to be heavy. As a lightweight microphone, the Beyerdynamic M 90 Pro X has no particular demands on the mic stand.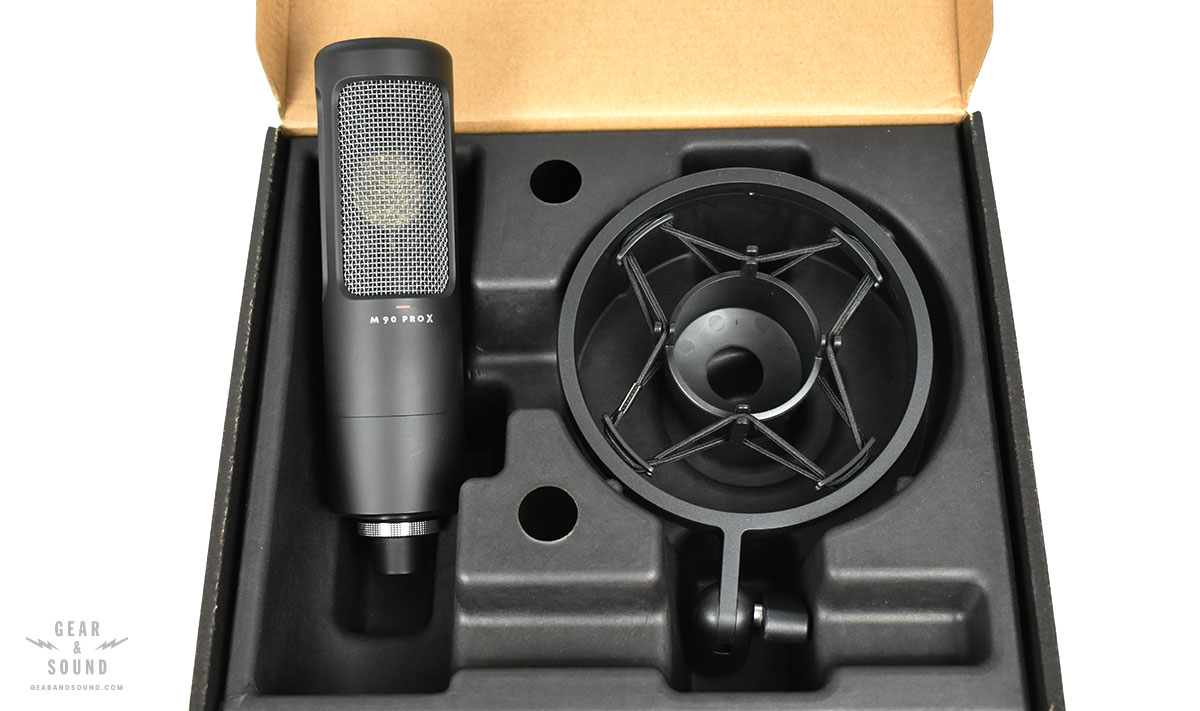 The M 90 Pro X's workmanship is excellent and flawless. Its all-black look makes it very attractive, and its design is straightforward. There are no switches or any other controls on the microphone itself.
The gray metal grille is perfectly inserted in the upper part of the M 90 Pro X, and a second layer of underlying fine mesh protects the capsule from the wind and pop sounds.
The XLR connectors at the bottom are gold-plated, a detail that contributes to longevity. A thread on the XLR shaft connects the mic to the shock mount with a single screw. Simple but effective. Just like the microphone, the round shock mount is also very large. It is made of plastic but leaves a good impression as it keeps the mic in a stable position.
If the microphone is not in use, the supplied neoprene bag can easily be put over it and used for dust protection.
Last but not least, a printed manual in seven languages is also included in the package.
Technical Specifications of the Beyer M 90 Pro X
According to Beyerdynamic, the M 90 Pro X is a general-purpose microphone that works for various applications.
Since it is a condenser microphone, it requires 48 volts of phantom power for operation. The brand new 34-millimeter true condenser capsule with edge contact design is very different from the 20-millimeter capsule used in the Beyerdynamic MC840. The microphone's polar pattern is cardioid, and according to the polar diagram, it is pretty constant throughout the frequencies. Like most of the other microphones of this type, its pattern tends to be super cardioid from above 8 kHz.
Beyerdynamic specifies the frequency range between 20 Hz and 20 kHz. According to the diagram, there is an increase of about +4 dB between 4 and 12 kHz. Besides this accentuation, the M 90 Pro X is a very linear microphone according to the nominal curve.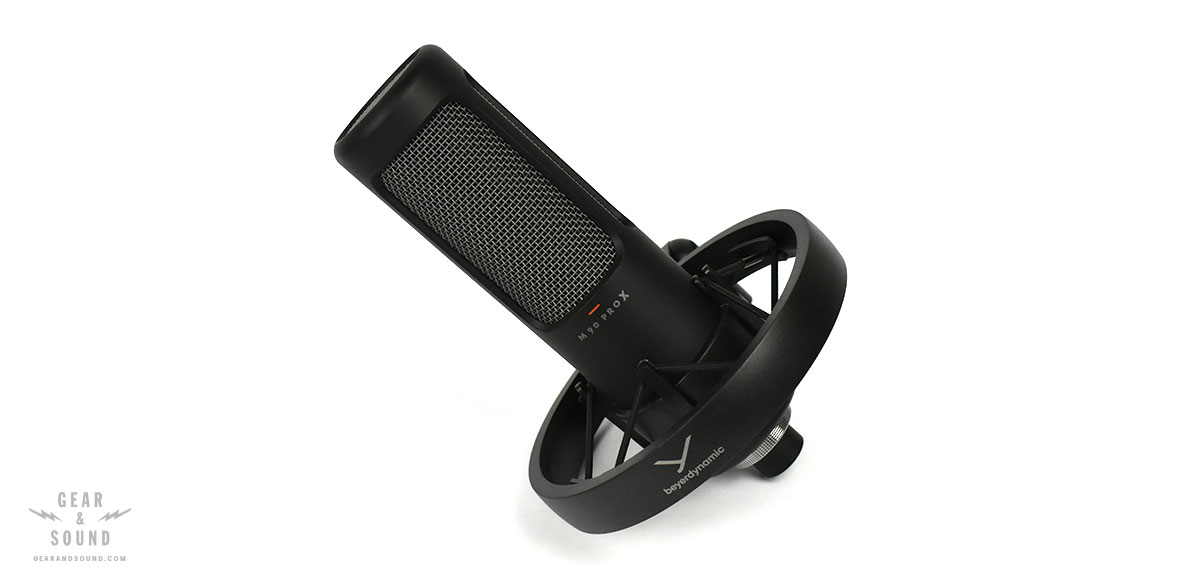 The sensitivity is very high and measured at 1 kHz is 36.3 mV/Pa. So even if you are using preamps with limited gain resources, there should be no problem regarding noise, thanks to the high output of the mic itself. The nominal impedance is < 180 ohms, and Beyerdynamic recommends using a preamp with an input impedance of over 1 kOhm, which is offered by almost every current preamp anyway.

According to Beyerdynamic, the maximum SPL is 133 dB, but it is unclear whether this value is measured with 0.5% or 1% THD. Regarding phantom power, the microphone is not very picky and works starting from only 20 volts! With 6.2 milliamperes, it draws quite a lot of current, but this is only relevant if you are recording with mobile devices since the battery life will drain quicker.
Beyerdynamic M 90 Pro X sound samples
Now let's hear how the new Beyerdynamic microphone sounds. For comparison, I've used an Austrian Audio OC818. It's a multi-pattern large diaphragm condenser loaded with features, so quite the opposite of the M 90, which is a one-trick pony. Both have a big condenser capsule inside, and I've set the Austrian Audio OC818 to cardioid, so both mics had the same pattern.
As the M 90 Pro X has a higher sensitivity, it needs about 10 dB less preamp gain compared to the OC818. That's great news for everyone who doesn't have a dedicated microphone preamp. Especially for preamps in low-priced audio interfaces that don't offer a lot of gain, the M 90 Pro X will be a perfect match. Also, the noise levels of the Beyerdynamic mic are extremely low. This can be a great advantage when recording quieter sounds.
Here's a recording of an acoustic guitar, the two mics are placed 30 centimeters from the 15th fret of the guitar:
Let's try the same with a little bit more attack and a bit more distance. Acoustic guitar strumming with the mics at 40 centimeters:
While the Beyerdynamic sounds good, the Austrian Audio OC818 sounds a bit more musical and balanced to my ears. In a way, the guitar sounds more "high-end" with the OC818.
Here's the sound of a ukulele at the same distance:
The Beyerdynamic M 90 Pro X enhances the high frequency even more than the OC818 does. To check how the mics handle high SPL and treat transients, I used a tambourine and a jingle ring at a close distance.
Some cheaper mics can easily distort when recording those instruments, but both of our mics perform well in this regard.

Let's try a bit more percussion. Here's a single snare drum. Again, the OC818 sounds a bit more dynamic and realistic, while the Beyerdynamic is useable but flatter. On loud sources like this, the high sensitivity of the M 90 Pro X can be a bit problematic. As it has no pad built in, the generated signal might be too loud for the converter to handle. As this could lead to distortion in the worst case, an external pad might be a useful accessory.
As the M 90 Pro X might be a great choice for Vloggers and Podcasters, here's a voice recording at a distance of 30 cm, without a pop filter.
All in all, I think the M 90 Pro X is very well suited for Vloggers and voice-over artists. Thanks to its low noise floor, it might be a great alternative to a Shure Sm7B, for example.
If you'd like to listen to uncompressed audio samples, download our high-resolution audio files.