Hearing that the Neumann NDH 30 intended to incorporate that MA-1 sound in a pair of headphones got me curious. I have to admit that I'm a big fan of Neumann's MA-1 Monitor alignment system. I use it in my studio as well as my home studio. The MA-1 has been the most significant upgrade to my monitoring setup and allows me to work in different rooms – always having that same neutral and well-balanced sound. Also, my mixes translate perfectly well to the outside world.
When it comes down to headphones, I use them for specific tasks during mixing, but I hardly ever rely on cans for a mix if I can avoid it. I came across many good headphones in the past, but there was not a single one that would be perfect or sound neutral. In my studio, I have around ten different models of different brands like AKG, Audio Technica, Austrian Audio, etc., and they share one thing: they all sound very different from each other.
Also, the shape of one's head, ears, earlobes, beard, etc., has a tremendous impact on the sound. That's why judging headphones is a highly individual task. A headphone that might sound great for someone might sound terrible for someone else and vice versa. So I have to admit that I was kind of skeptical when I heard the marketing claim that the NDH 30 would sound as neutral as the MA-1. But then again, we are dealing with Neumann. And in the past, they proved that they know how to get things right.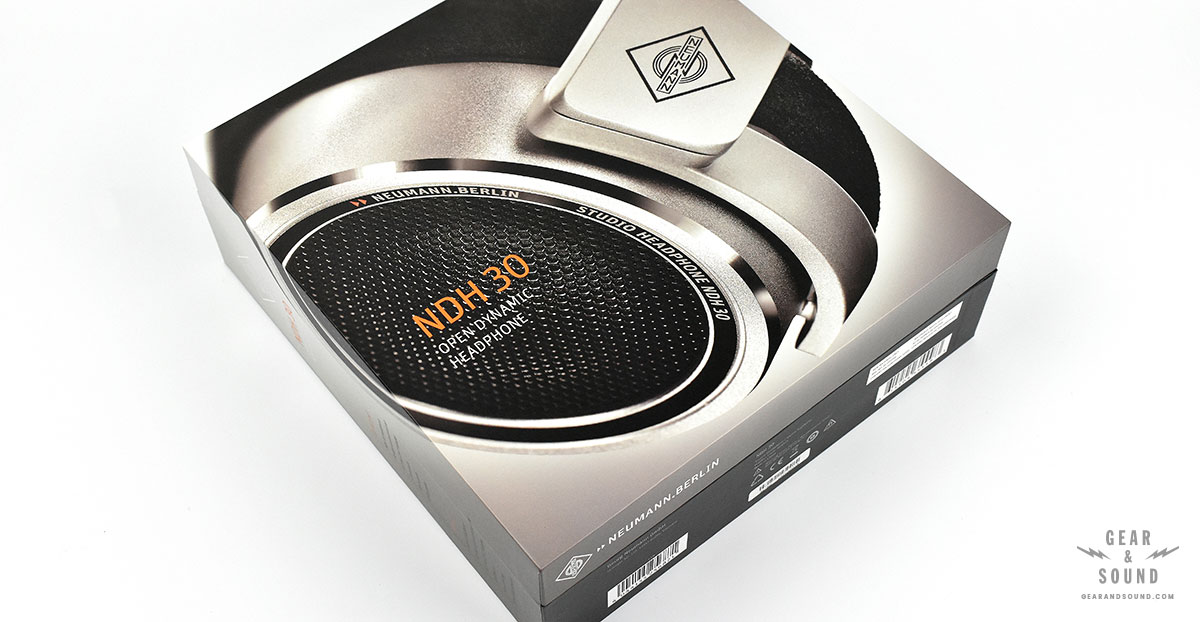 Neumann NDH 30 unboxing
The box of the NDH 30 is attractive and well-designed. A compartment in the lid contains a three-meter cable, a Quickstart guide, the warranty conditions, and a cloth bag for transport. Unfortunately, a shorter cable, such as the one supplied with the NDH 20, is not included. Nevertheless, the headphones are fully assembled, the user only has to connect the cable, and he is ready to go. Just like with the NDH 20, the cable attaches on the right side, while all my other studio monitors have the cable on the left side.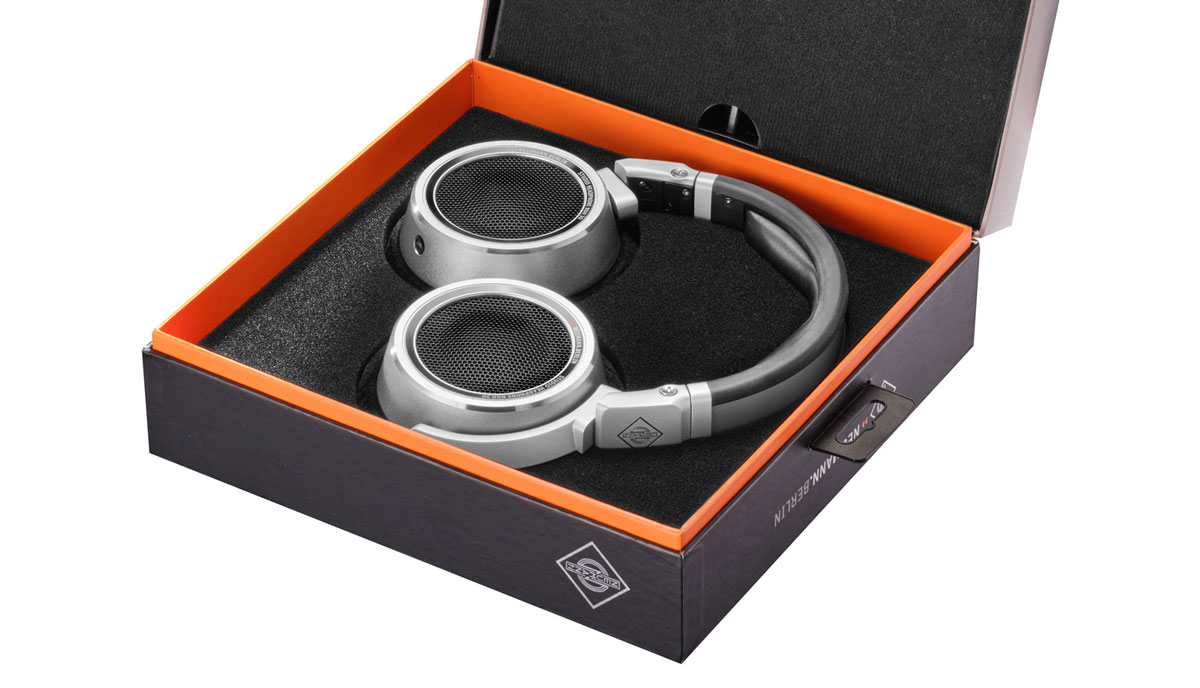 The overall built quality of the Neumann NDH-30 is excellent. Finish, metalwork, paint, rubber coating, or individual components such as the pads and hinges… the Neumann NDH 30 has no weaknesses in workmanship and looks absolutely stunning. All critical parts are made of sturdy steel or aluminum, and even some plastic fittings have been reinforced with metal.
The cloth-covered cable has gold-plated plugs, and the ends of both plugs have been reinforced to prevent cable breakage. A matching adapter from 3.5 mm to 6.3 mm is also included. The ear cups are perforated on the outside and painted black, so the difference to the Neumann NDH 20 is quite apparent. They are also slightly larger and offer more space for the ear. The fact that they are produced in China has obviously no negative effect on the quality nor the overall touch and feel.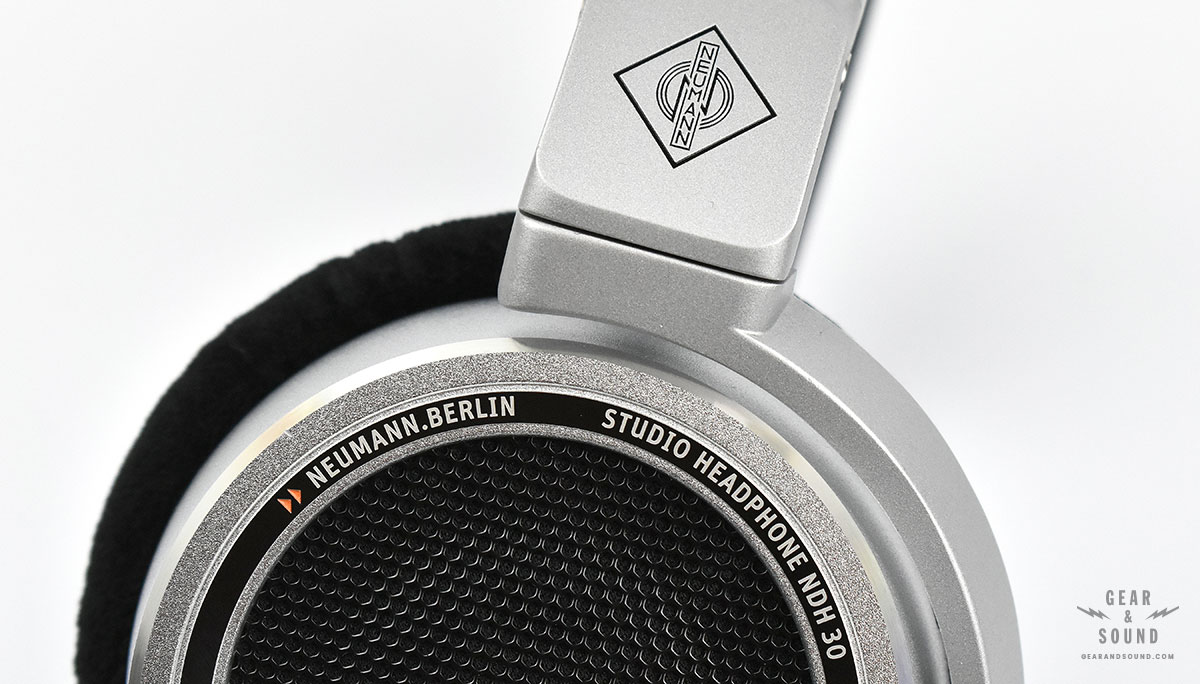 Touch and Feel
The Neumann NDH 30 definitely leaves a remarkable impression. Since almost all edges are rounded off, it is comfortable to handle the Neumann NDH 30. The support pads below the headband are pleasantly soft, as are the fabric-covered ear pads. These are, of course, replaceable by the user.
On my first try, I immediately fell in love with the high level of comfort that the NDH 30 offers. Since the earpieces give considerably more space than the NDH 20, for example, the ears have full freedom.
The cozy cushions made of very soft fabric also contribute a lot to the fact that the NDH 30 is very comfortable to wear. In addition, its 352 grams feel significantly lighter, and nothing should stand in the way of a long mixing session.
If you have a big head (like me!), the NDH 30 got you covered. In my collection, it's the headphone with the most extensive achievable radius. To sum it up, the NDH 30 is as comfy as can be.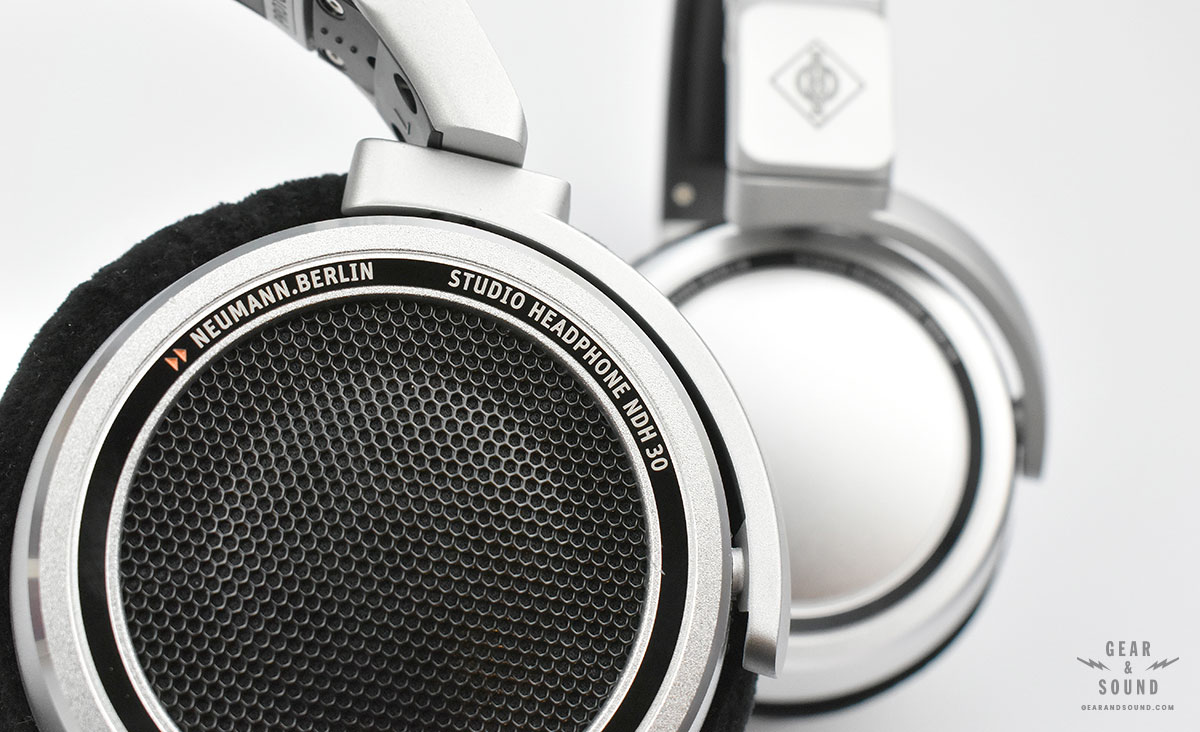 Technical aspects
The Neumann NDH 30 relies on two newly developed 38-millimeter neodymium-based drivers. Their frequency range extends from 12 Hertz up to 34 kHz. The harmonic distortion is extremely low and measures less than 0.03% at 1 kHz and 100 SPL. The sensitivity, measured at 1 kHz, is 104 dB SPL. The impedance of 120 ohms is rather high compared to other studio headphones. The nominal power handling is 200 mW, and the maximum power handling is 1000 mW. The NDH 30 is ready for operation at temperatures between +5 and 45 degrees Celsius and humidity below 90%.
In Use
My first impression about the sound was very good straight out of the box. Nevertheless, I took the time for a burn-in period of 24 hours before running my tests. Of course, I was very curious about how these headphones compare to my two Neumann MA-1 speaker sets (set 1: 2x KH120 + 750 Subwoofer and set 2: 2x KH80 DSP + 750 Subwoofer).
As I said, I was skeptical before the test, but the NDH 30 instantly blew me away with its very linear yet powerful sound. Running A/B comparisons between my speakers and the NDH 30 is almost scary regarding how close they are in terms of sound. Of course, you hear more of the sound of your room when you listen with speakers, and my subwoofers also offer a bit more bottom end compared to the headphones. But If you match the levels' rights, their sonic relationship is undeniable.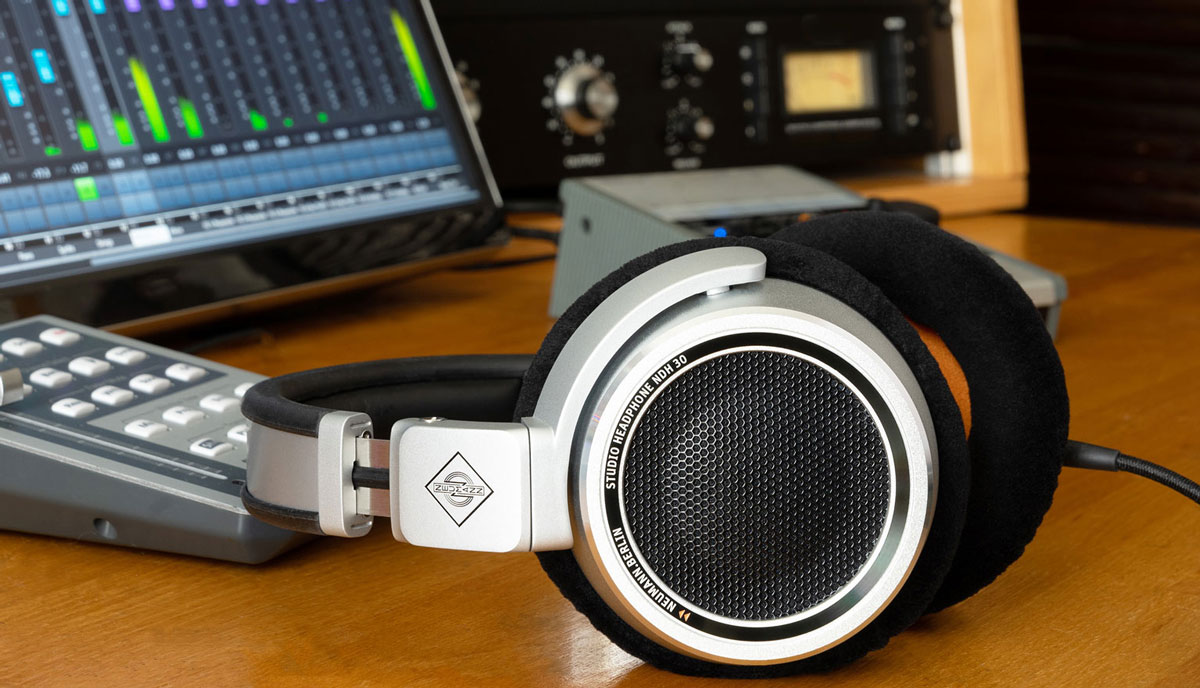 It has never happened to me before that music I listen to sounds similar on speakers and headphones. There is always a huge difference, as every headphone's got its own distinct sound signature. During mixing, this can be the reason for lots of uncertainty and raise questions like "which system sounds right?",  "Can I trust my monitors, or should I trust my speakers?"
For all those of you using a Neumann MA-1 system, these questions will be a thing of the past once you team up with the NDH 30. It won't add to the confusion. Instead, it will assure you that you can rely on what you hear.
Checking different styles of music, it became obvious that the Neumann NDH 30 is an excellent all-rounder. While other headphone models are often suited for certain styles of music, the Neumann handles everything you throw at it with ease and perfection. Despite its linear sonic character, it is not at all lame or boring. It delivers a powerful performance with a defined bass response and precise transients that are balanced just right.
Whether for classical music or drum'n'bass, country, grunge, or funk, the NDH 30 is a perfect compagnion to get down to the details and make accurate judgments. And at the same time, it's possible to simply enjoy the music. It also handles distorted electric guitars very well. While many headphones emphasize the higher frequencies too much and turn a power chord into a nasty, brittle thingy, the Neumann NDH 30 performs just well.
Neumann NDH 20 vs NDH 30
If you already own a pair of the closed-back Neumann NDH 20 headphones and wonder if they are similar to the NDH 30 in terms of sound, the answer is: no. To my ears they got not much to do with each other, and the higher price of the NDH 30 is well justified by its higher resolution and linear sound.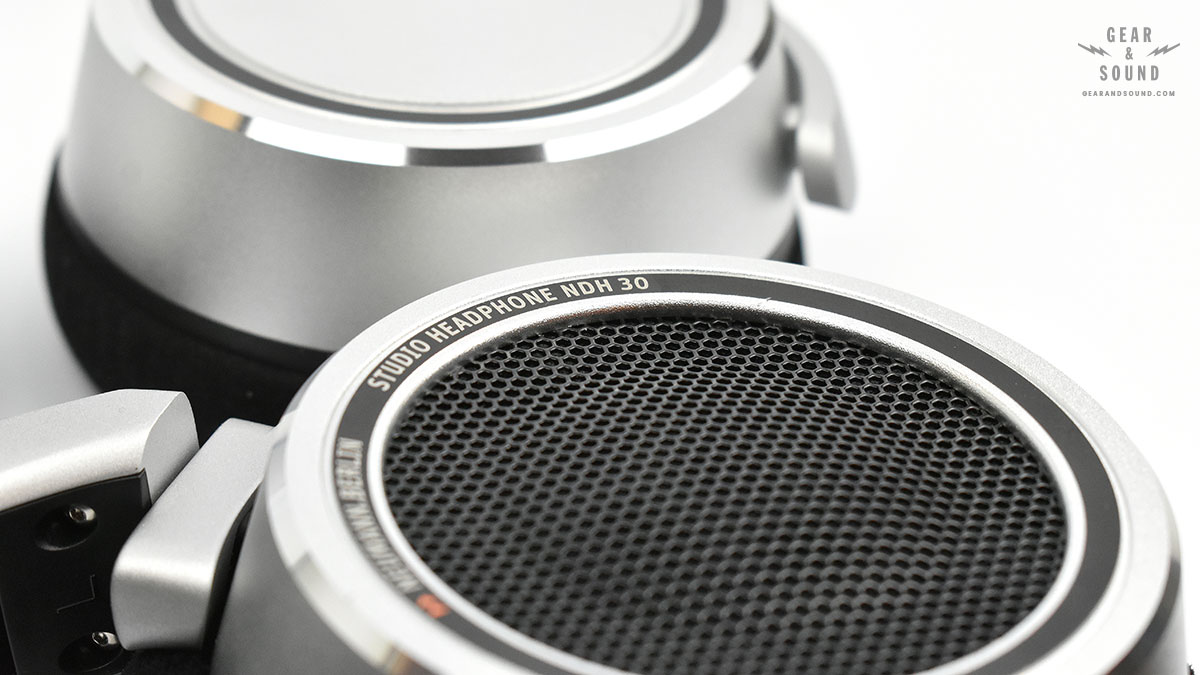 Symptoms of fatigue do not occur with me, quite the opposite, actually. It triggered my curiosity and I wanted to listen to more music with it. Its comfortable fit with the cuddly ear pads also contributes to the fact that you want to put them on again and again.
For those of you who are looking for a mobile mixing solution or a second monitoring option with neutral sound, the Neumann NDH 30 is a great choice. It is also predestined for immersive audio applications due to its balanced sound image and impressive spatiality.