Visiting Stewart Tavener of Xaudia, Part 2
In Part 1 of our visit to Xaudia in York, Stewart Tavener repaired and serviced an old Philips 9559 ribbon microphone. The next in line was one of the UK's most iconic ribbon mics: the BBC Marconi AXBT.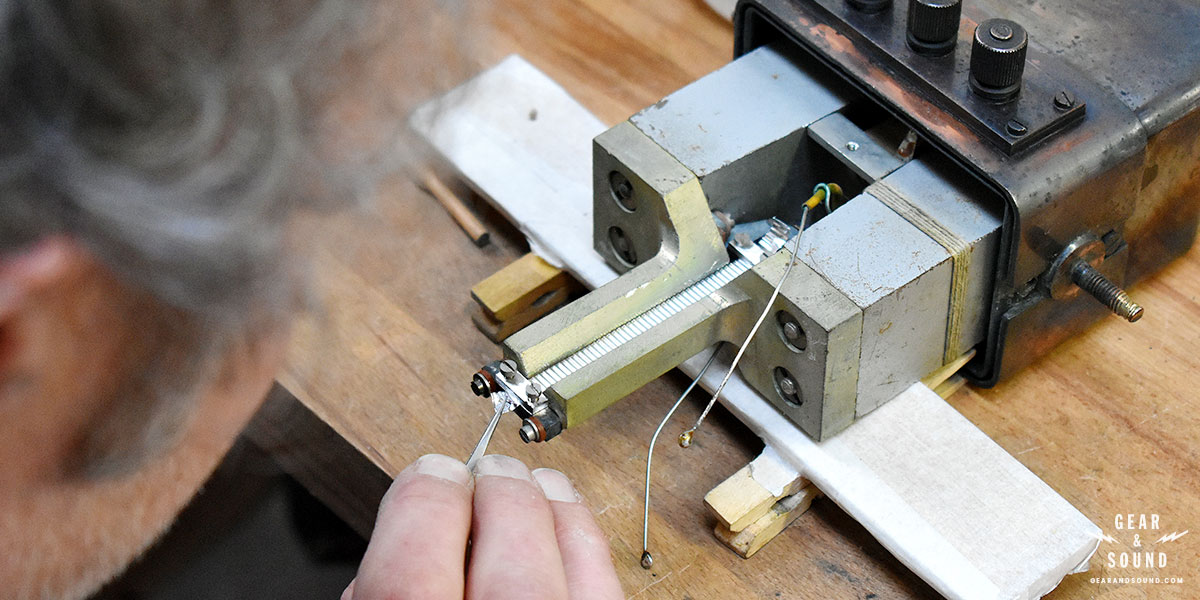 The BBC Marconi Type A, an icon that made history
For this legendary microphone, renewing the ribbon and cleaning the inside was all that was needed.
But first things first, if you haven't heard of this iconic mic yet, here is a video that the BBC made about it. So if you ever wondered what Charlie Chaplin, Petula Clark and Charles de Gaulle have in common, here is the answer:
So now, let's open it up and let Stewart do his magic.
"The great thing about this type of microphone is the ideal service situation. With moving coil and condenser mics, a thousand things can go wrong. Sometimes a mic like this is ready for the recycling can because you simply can't repair it. The problem can be the capsule, the electronics, or spare parts that are no longer available.
With ribbons, you don't have these problems. Here and there, you might change a transformer, but usually, the magnets hold their strength, and besides this, you basically just need aluminum foil", Stewart explained.
In the past the ribbon had obviously been exchanged. The corrugation was almost gone, and the foil touched the magnets, causing audible distortion in the audio signal:

Here's the BBC Marconi AXBT after Stewart cleaned the magnets and the clamps that hold the ribbon: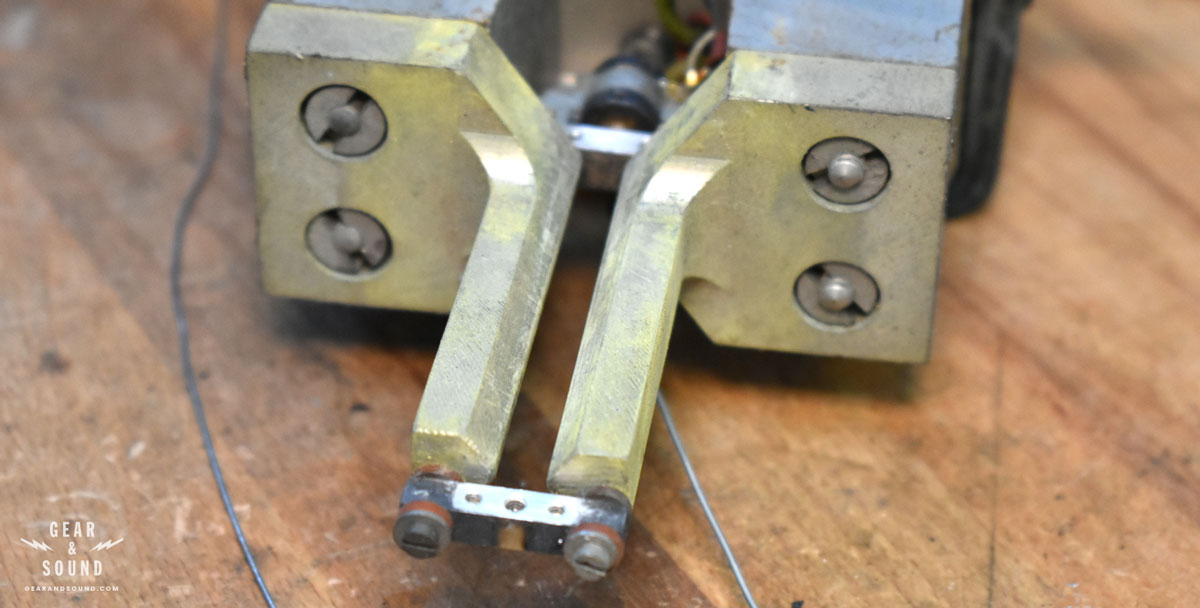 That's how the microphone looks with a brand new ribbon installed:
The tiny gaps between the ribbon and the magnets are visible when you hold the microphone against the light.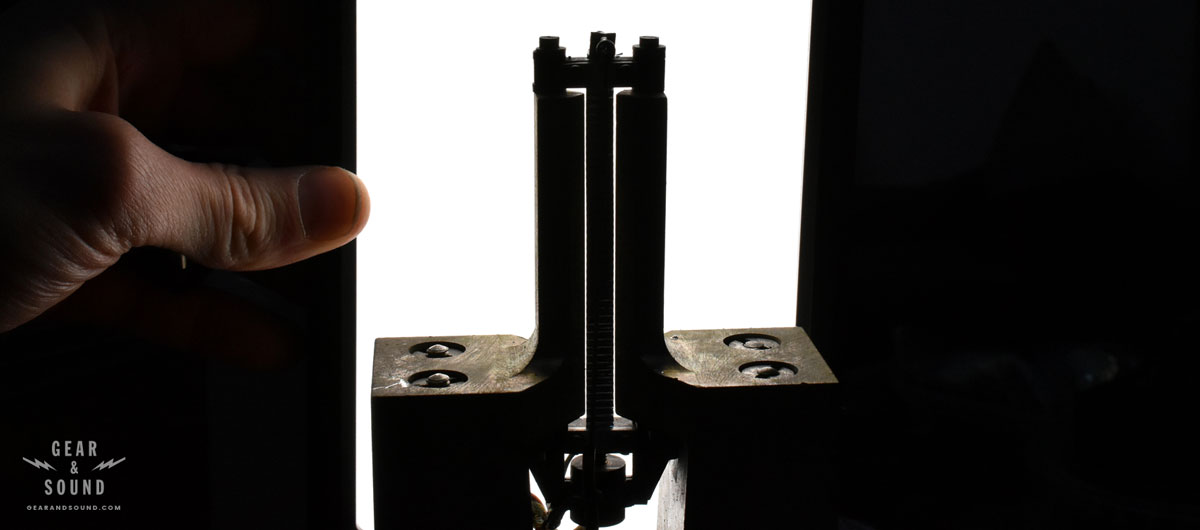 Besides the service on the ribbon motor itself, the old textile that was used on the inside to prevent any wind to destroy the ribbon, needed some service as well.
And here's how it looked before and after Adam (Stewart's partner in crime) took care of it. It's a mystery to me, how he could reach this perfect result:
As the transformer and the magnetic field were in perfect working order, we went on with le micro français.
Repairing the Melodium Type R ribbon mic at Xaudia
The transformer exchange that Stewart mentioned before was indeed exactly what was necessary for the Melodium Type R. Listening to it, this rare French beauty had a significant lack in bass response.
After some measurements, it became clear that time had taken its toll on the original transformer, which was probably around 80 years old.
But guess what? Stewart had a solution for it: "I'll install a custom wound Extinct Audio transformer. With this new transformer, you'll also have an output impedance of 300 ohms instead of 50 ohms so that the Melodium Type R will work great on any modern preamp". This was music to my ears so he moved forward.
Several years ago, Stewart started experimenting with his own transformer design. Nowadays, with two big winding machines in his workshop, he can produce transformers for different purposes.
Rewinding old transformers is also sometimes possible, but the one in the Melodium Type R just needed to be exchanged.
In addition to the new transformer, the Melodium Type R also got a brand new ribbon. But as the original ribbon still looked in perfect shape, I wondered if there was any benefit in exchanging it.
The answer from Stewart left no doubt: "Basically, it all looks nice, and here I'm sure it's the original ribbon. But the microphone has been around for decades. So it would benefit from cleaning all the contacts to make sure the signal flow is optimized.
Also, the aluminum of the ribbon can get a little stiff when it's really old, and that stiffness affects its sound."
So after a thorough cleaning and a perfectly fitted new ribbon, the microphone was ready for the next 80 years.
But will I be able to stop by in York in 2102 for the next service? Probably not, but chances are high that the mic will still work – and in our time of short-lived, software-based modelling mics, isn't it amazing to have a perfectly working mic for several decades?
But for now, it was the turn of the RCA 44BX. In contrast to the Melodium Type R, repairing it was surprisingly technically simple (but not easy to achieve, as you might assume).
The original ribbon was twisted and it needed to be renewed.
Talking about RCA, I could hear the enthusiasm in Stewart's voice.
"When you've had your hands on so many microphones, you really come to appreciate a brand like RCA. It's simply the highest quality you can expect of a ribbon microphone in so many ways.
They had so many great ideas back then, and a lot of other companies simply copied their designs."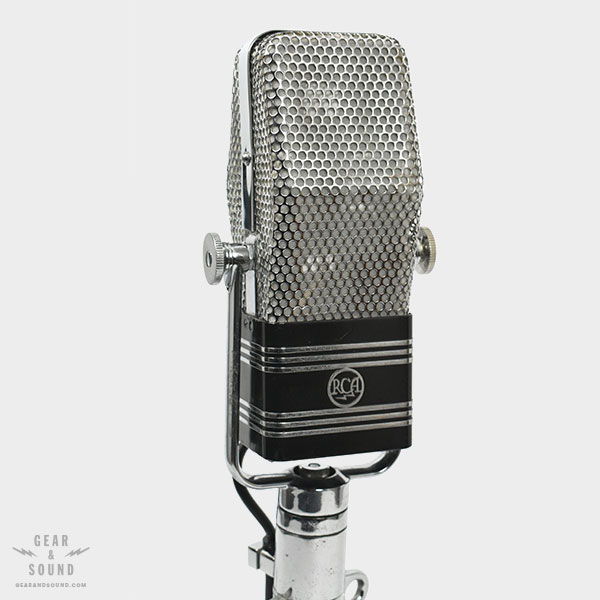 In fact, after comparing the construction of the Type R with the RCA 44BX, it appeared really obvious to me that Melodium had copied many parts of the RCA design.
Or was it the other way round? Some people in France claim that the Melodium came first!
In purely sonic terms, it is apparent that the BBC Marconi, the Type R, and the RCA 44BX all played in the same league that one can expect from an excellent, high-class ribbon mic: a very high output combined with very low noise and a natural sound with an open character in the top end.
Each of them has its own personality, but they all have that famous "Bigger than Life" sound.
Smaller sized ribbon mics
Then came the B&O BM5. It already got brand new magnets, an updated transformer, a new connector, and a new ribbon in the past. These changes are part of Stewart's B&O upgrade kit that brings the sonic qualities of these danish microphones to a whole new level.  Compared to the original design's low output and noisy sound, it's clearly an upgrade well worth it.
The particular microphone that Stewart had on his bench in York belonged to the Berlin-based rental service Echoschall. After years of being handled by many customers and used for different occasions, its owner felt the need to do a checkup and a new matching of the two sides.
So Stewart exchanged the two ribbons and matched them for the two sides to sound identical. Thanks to him, the B&O now delivers excellent results again as a Blumlein Stereo microphone.
The petite Melodium RM6 microphone
Last but not least, the old Melodium RM6 was next in line. Unfortunately, it had a strange 3-pin connector that only Melodium used at the time. Even though I had found a fitting connector on eBay, the microphone produced no output when connected to a preamp.
The design of the old Melodium RM6 is very different from the big Melodium 42B. It's much smaller, and the streamlined design gives it a much more futuristic look.
Like its big brother, though, the RM6 features a high-pass filter with three settings. It also has an off-switch, and due to its sleek design, it only weighs 470 grams (whereas the Melodium 42B weighs not less than 2,2 Kilos!).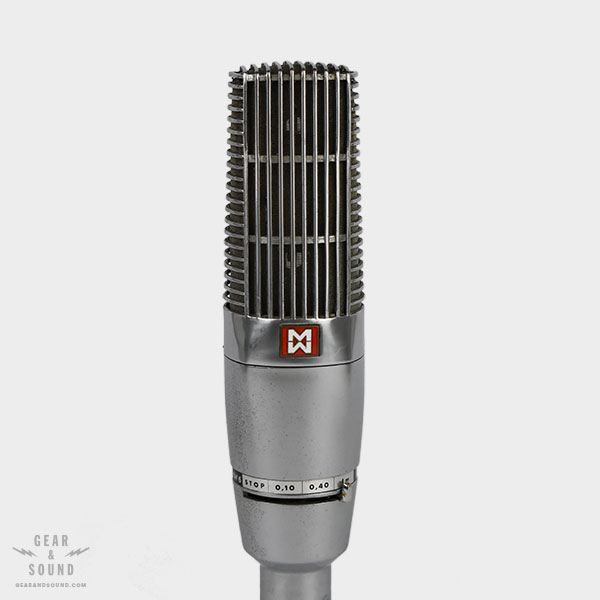 "Some people expect the small Melodium RM6 to sound like a big 42B – that's not the case, of course. It's an entirely different construction and, therefore, it produces a completely different sound", explained Stewart.
Getting inside the microphone was not easy. Three tiny little pins hold the metallic housing together, and the whole construction seemed to be quite difficult to disassemble. However, once Stewart made it, I could see the little Easter Island statue he described in his blog with my own eyes.
As the ribbon was broken, it was no surprise that we couldn't hear any sound. Just like with the other microphones, Stewart began to clean the inside with great care.
I asked him if it was possible to exchange the connector to XLR, but he explained: "It is possible, but there is a 50/50 chance that the silver coating on the outside of the mic will go off during the process. If it were me, I'd use it with an adapter cable and make sure the microphone stays in good condition to keep its value."
No sooner said than done, Stewart used the original Melodium connector and soldered the fitting cable. So just like the old Melodium Type R, the RM6 was now ready for studio recording. With its internal high-pass filter, I find the RM6 especially useful on a snare drum, as you can position it very close to it. The small size also makes it perfect for this task. Additionally, the figure-8 pattern blends out the hi-hat and the tom.
All in all, we had a fantastic time in York at Xaudia with Stewart, Adam and Paul. Inside the workshop as well as outside in the local pubs…  Big thanks to Stewart for letting us look over his shoulder and explaining every detail of his work. It must have taken a lot of patience to take care of the repairs while being asked hundreds of questions about technical details at the same time!
But all good things come to an end, and it was time to go back home. Our departure turned out to be a bit lively though… Long story short, it involved a big storm coming, cancelled trains, and a last-minute ride with Adam and his Mini, listening to Slash Bikini, his former band with Stewart!
In the end, it all worked well, and the newly repaired microphones are now ready for studio work. If you'd like to book a recording session with these old classics at our studio in Berlin, feel free to reach out.
If your ribbon microphone needs service, you can contact Xaudia.
If you are out for a brand new one, check out the Extinct Audio line of products, made by Stewart and Adam. They sound amazing, and their design is simply the essence of the knowledge of over 10.000 ribbon mic repairs.
Customers in Germany can purchase the Extinct Audio BM9 and the Black Ops directly at Echoschall, without dealing with import duties and taxes.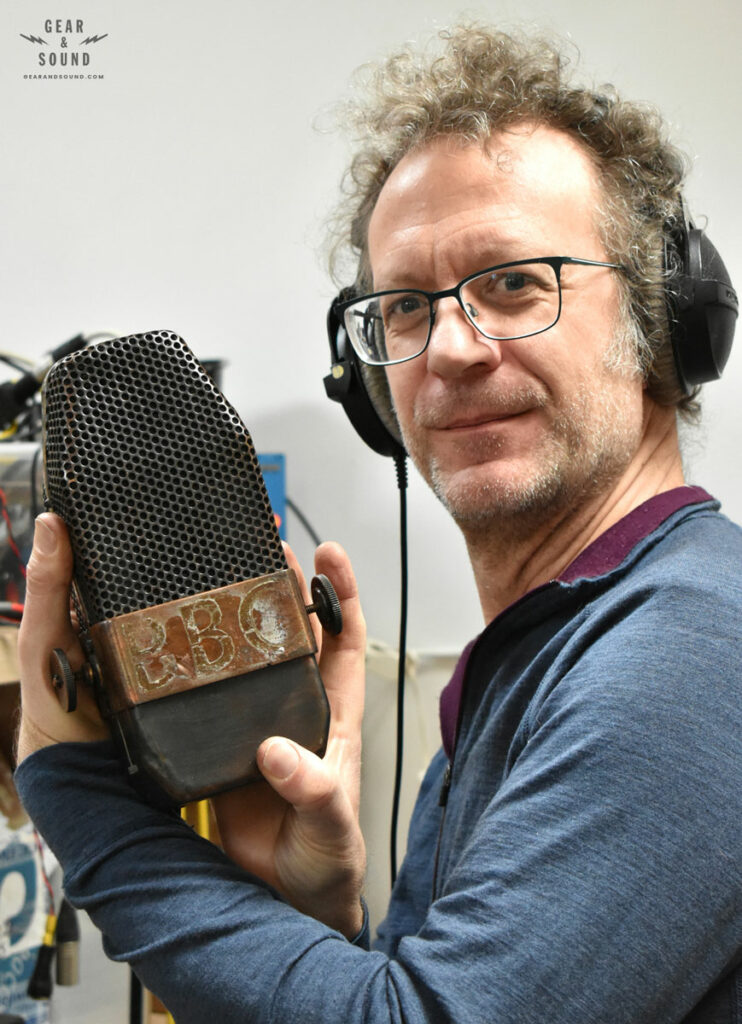 Have you missed the part 1? Read more about Stewart Tavener from Xaudia and his repair of our vintage ribbon microphones.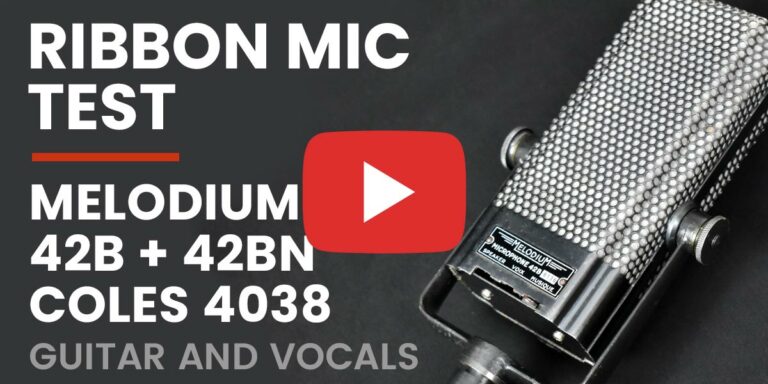 Videos
Listen to the Coles 4038, new/old Melodium 42B on guitar and vocals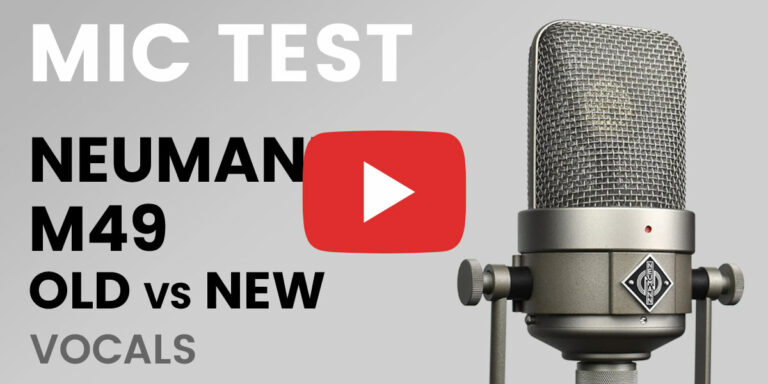 Videos
Vocal comparison of Neumann M 49 V, M 49 c, and a TLM 103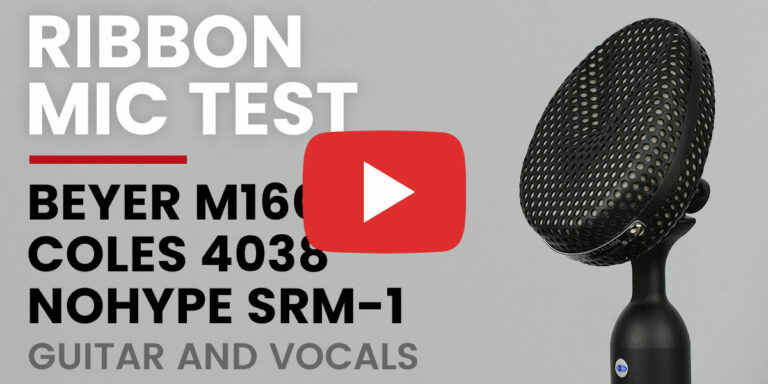 Videos
Comparing three very different ribbon mics on acoustic guitar and vocals
We love music gear and test how it sounds.
Here you'll find reviews, sound samples, unboxing pics, and videos of recording equipment like microphones, preamps, headphones, etc.
We also write about legendary mics and interview great people.
Read more about How we test.